All New Virtual SPIKE Prime
Joining the CS2N Virtual Robots, Virtual SPIKE Prime is now available! Program the latest virtual platform in the all new Carnegie Mellon Robotics Academy offering today!
Virtual robot, virtual challenges, real learning!
CS-STEM Curriculum and Technology Showcase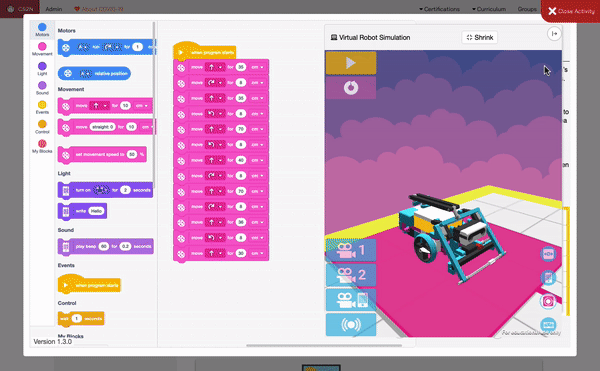 CS-STEM Curricula and Activities
The CS-STEM Network provides curricula created by Carnegie Mellon Robotics Academy. Users with little to no background experience can easily follow along with these scaffolded instructions, all available for free!
Carnegie Mellon Robotics Academy offers other lessons and curricula that are available separately. All are research-based, aligns with standards, and focuses on the development of STEM skill sets. To learn more about these curricular products, visit our Curriculum area on the Carnegie Mellon Robotics Academy site.
For Teachers
Basic Accounts

You can create free basic account and start using all of the available lessons, progress tracking, and all of the features right away. Basic accounts are only limited to 3 groups, with up to 3 activities and 30 students per group.
---
Premium Access

If you need to create more than 3 groups (30 students per group), you can sign up to Premium Access which allows unlimited groups, and activites and students per group.
---
Create • Create accounts for students to get started easily
Learn • Learn programming, engineering, electronics, and more
Achieve • Track students' achievements as they go through materials
Certify • CMRA certified teachers can certify their own students through CS2N
Are you looking for Professional Development in Robotics?
Carnegie Mellon Robotics Academy is a world leader in robotics education and has trained teachers from around the world. Learn more about our Onsite, Online and At-your-location training by clicking the link below.
CS2N Certifications
CS2N Certifications certify individuals have met introductory competencies through the Carnegie Mellon Robotics Academy Professional Training. Some advantages of being certified include an official certification from CMRA, applicable to continuing education credits, and the ability to certify students.